I have to tell the story of this recipe. During taping for Food Network Star, my cast mate, Michele Ragussis made her mom's Arancini for us one night and let me help her make it. A few days later when my team had to create a food court restaurant with an Italian theme, I asked Michele if it was okay if I made it for the competition but with my own twist. Yes, she gave me her blessing but choked back a laugh since I'd only watched it made once and had never actually made it myself. It came out pretty well, I guess. We won. And I even got a marriage proposal on set from an Italian guy in the audience who told me these arancini and the marinara I made to accompany it was better than his Italian mother's. That made me pretty proud. Thank you, Michele and Mama Phyllis, for sharing your family tradition with me.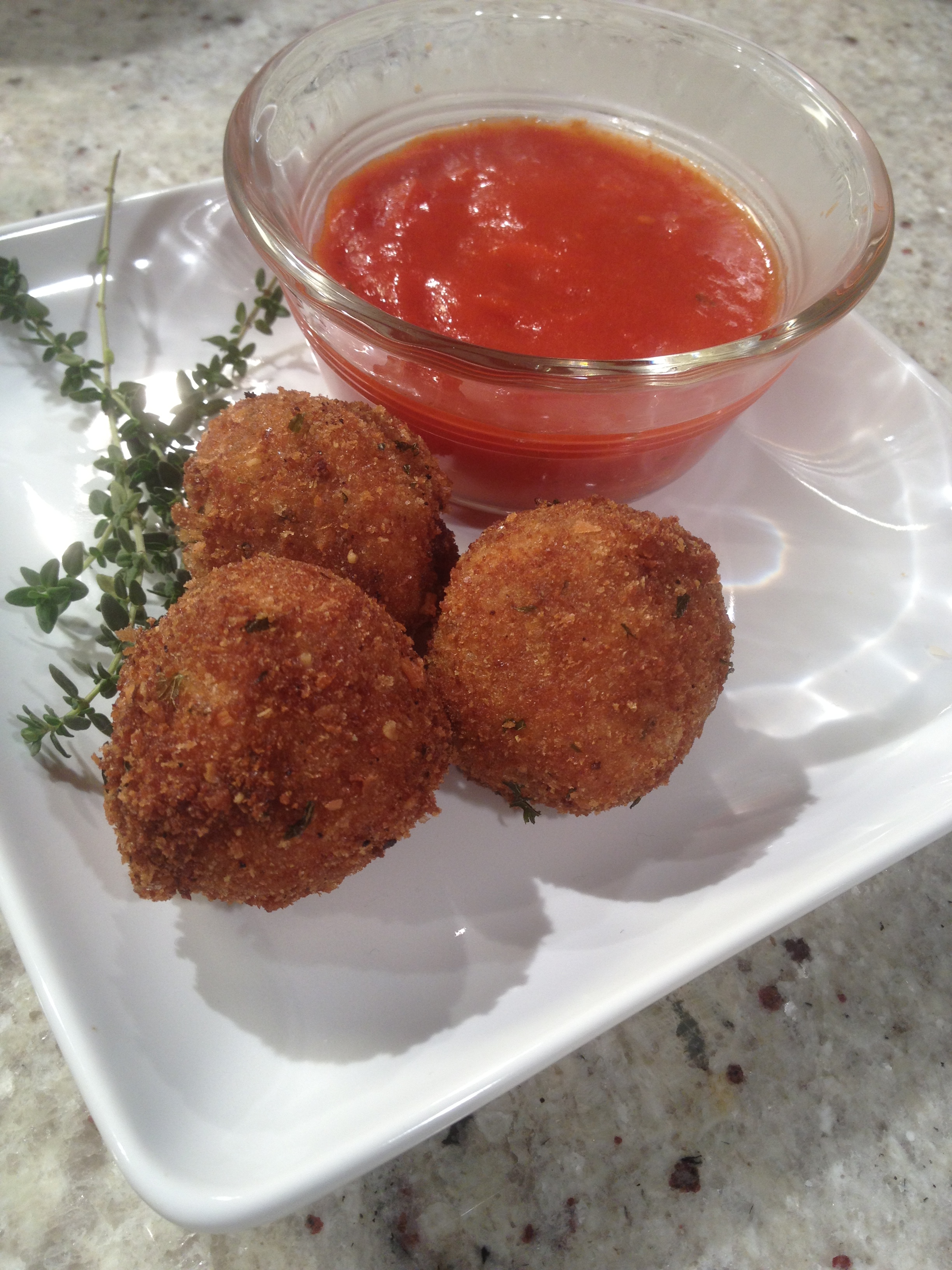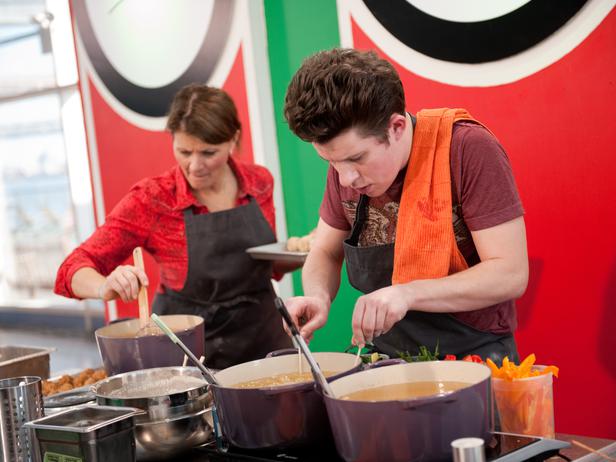 Arancini is the perfect party dish. If you use ground beef, it is very inexpensive to make for a crowd and you can easily double the recipe. I make them early in the day and just drop them into the fryer right before serving. You can even make them in advance and freeze them- just thaw and fry just before guests arrive. These are cheesy and delicious. Try them and let me know how you do.
ITALIAN RICE BALLS --ARANCINI WITH SPICY MARINARA
INGREDIENTS
2 tablespoons olive oil
1 medium onion, diced small
5cloves garlic, minced
1 pound ground beef
1 pound ground veal (optional- you can sub ground beef or pork)
1 cup Italian flat leaf parsley minced
2 tablespoons fresh thyme, minced
1 tablespoon dried oregano
2 teaspoons kosher salt
1 teaspoon black pepper
1/2 teaspoon red pepper flakes
1/4 teaspoon cayenne pepper
1 ½ cups tomato sauce
2 cups grated Parmesan cheese grated
2 cups cooked and cooled Arborio rice
5 eggs
3 cups breadcrumbs with Italian seasoning (I make my own but store brands are good)
Canola oil for frying
3 tablespoons minced fresh basil
Marinara Sauce (see recipe below or use store-bought)
Special equipment: #10 (small-medium) ice cream scoop
DIRECTIONS:
Cook the rice according to package directions but you want the rice to be sticky so I cook a bit longer than I should and don't add butter or olive oil to the water. You don't want it to be mushy. Set aside.
Heat 2 tablespoons olive oil in a large skillet over medium heat and sauté onions and garlic for 2 minutes until softened. Add meat and cook until browned, breaking up large pieces as it cooks. Strain off excess fat from the pan. Add parsley and cook 3 minutes. Add thyme, oregano, and pepper, and salt, cayenne, red pepper flakes. Taste and add more seasoning if needed.
Keep in mind that rice and cheese contain salt so be careful not to over salt the meat mixture. Let the meat mixture cool a bit. Add the tomato sauce. Combine rice with cheese but be careful not to mash the rice. Add the rice mixture to meat mixture and stir gently to combine. Check the seasoning. Add additional salt and pepper if necessary.
Line a baking sheet with parchment paper. Use ice cream scoop to shape the balls so they are a consistent size, then hand roll the balls as tightly as you can.
Pour enough canola oil into a deep skillet or Dutch oven to reach 5". Heat oil over medium heat to 350-degrees. Use a thermometer to check the oil temperature.
Whisk eggs in a small baking dish. Place breadcrumbs in another baking dish. Roll rice balls lightly in the eggs then immediately roll in breadcrumbs to form a coating. Shake off the excess breadcrumbs. Place them on the baking sheet and refrigerate or freeze until you are ready to fry.
To fry:
Carefully drop rice balls into the hot oil a few at a time, taking care not to overcrowd and lower the oil temperature. Cook until golden brown, about 2-4 minutes per batch. Bring oil back up to 350-degrees before cooking each batch. Drain rice balls on paper towels before serving.
Serve with homemade or store-bought marinara for dipping. Garnish with the basil leaves.
SPICY MARINARA SAUCE
INGREDIENTS
1 tablespoon olive oil
1 onion, chopped
4 cloves garlic, minced
3 large cans (28 ounces) whole peeled tomatoes, including liquid
1 cup fresh whole basil leaves, loosely packed
1 1/2 tablespoons fresh thyme leaves (about 1/2 tablespoon dried)
1/2 cup fresh whole oregano leaves, loosely packed (about 1 tablespoon dried)
2 teaspoons kosher salt
big pinch granulated sugar (optional)
½ teaspoon black pepper
pinch cayenne pepper
splash Balsamic vinegar
DIRECTIONS:
Heat olive oil in the bottom of a large pot. Add onion and cook for 5 minutes until translucent and softened. Add the garlic and cook for 1 minute. Use some of the liquid from the tomatoes to deglaze the pan, and then add the remaining ingredients. Use an immersion blender to puree, taking care to leave the tomatoes slightly chunky. (If you don't have an immersion blender, you can add everything to a blender or food processor)
Bring to a boil and cook for 5 minutes, stirring frequently to keep from burning on the bottom. Reduce heat to low and cook for 1 hour or longer so that the marinara thickens as some of the liquid cooks out. Check seasoning prior to serving. Add salt or a pinch more sugar as necessary.