Break out the beads, it's Mardi Gras! You may not have the parades, floats, Krewes, and crowds of Mobile or New Orleans, but you can still have the best of Mardi Gras right in your home---the music, the mood, the food, and all the fun! Hosting a Mardi Gras party is painless because all the components are easy to find or make. We planned our party in just two days. You can, too, even if you've never been to "Nawleans."
If you are planning a trip to the Big Easy, read my post about where to go, where to eat, and where to stay in New Orleans. Read more...
THE FOOD
Gumbo and boiled shrimp can easily be made in large quantities so this is one of the best party themes for a big crowd. Your regular grocery like Publix, Whole Foods, even Winn-Dixie will have most of what you need. Stop by the seafood counter for shrimp. They can steam it for you or you can do it at home using my shrimp boil recipe. You'll also find cocktail sauce there but I always make my own. If you stop as you first enter the store and ask them to steam the shrimp for you, you can pick it up just before you check out. Always ask for fresh Gulf shrimp; it makes a big difference!
TIP: I always take an ice cooler with me to the store so I can keep the shrimp cold on the way home. Or if it has been steamed, the cooler will help keep it hot, too. Pack with newspaper or brown paper to keep heat in.
If you don't want to cook, you can find surprisingly good frozen gumbo chock full of sausage and shrimp along with some really spicy crawfish (just for fun) in the frozen seafood section of the store. My own Gumbo recipe is easy to make and everyone loves it. I always make a big (giant) batch a day before and freeze some for later. On party day, make sure to heat the gumbo to at least 140 F -It takes longer than you might think to heat a big pot of gumbo thoroughly so make sure to start early. See my video tips on Food Safety.
Serve the gumbo with rice. I always follow the standard recipe: 1 cup of rice to 2 cups water. And salt the water first and add a little butter. You can always use boil-in-bag rice if you have to; find it in the rice aisle. Who knew? I have a large rice cooker I use specifically for this.
You might have to educate the deli counter on the art of the Muffuletta sandwich: a round loaf of Italian bread sliced in half, scooped out, then slathered with a thick layer of olive salad and stuffed until overflowing with several different meats and cheeses. My favorite Muffuletta can be found in New Orleans at Central Grocery. The bread is what makes the real difference but you won't find that anywhere outside of New Orleans. Any round loaf can substitute in a pinch.
I always scout the store in advance to make sure I can find everything I need well before party week. That way I'm not frantically trying to source something at the last minute.
THE DECORATIONS
The decorations were even easier than the food. Balloons, string lights, feathered masks, and beads are inexpensive and readily available in the traditional Mardi Gras colors of purple, green, and gold. If you want to spend a little more, you might get a Bourbon Street sign and street lights at a rental store to complete the feel of the French Quarter. If you have time to order online, Oriental Trading Company has a great selection of Mardi Gras essentials.
I get or order my Mardi Gras beads from Toomey's in Mobile, Alabama. They have a great selection of hand-strung beads, cheap beads, collector's beads, and theme beads to select from.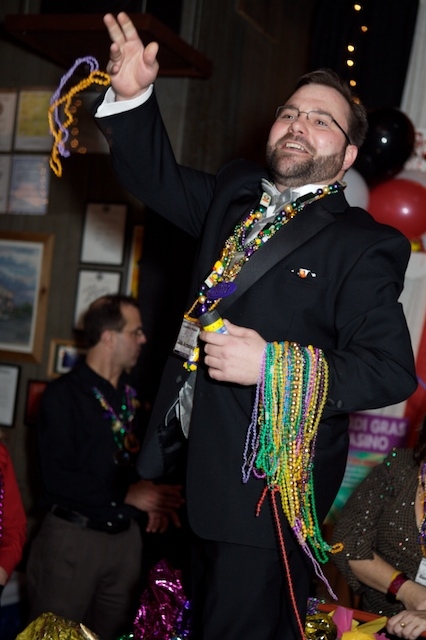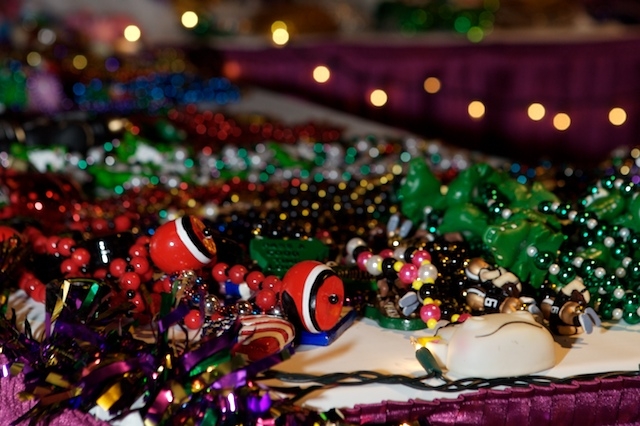 ENTERTAINMENT
Jazz, blues, and the unique sounds of Zydeco are a big part of any Mardi Gras celebration. Make a playlist of traditional favorites and don't forget native sons Harry Connick, Jr., Aaron Neville, Louis Armstrong, Fats Domino, Jerry Lee Lewis, and Wynton Marsalis.
You're all set to join the world's largest party from the comfort of your own home. No middle seat or layover in Atlanta required!
IMAGES PROVIDED BY ARDEN WARD UPTON/ ARDEN PHOTOGRAPHY