Want to add a little DIY fun to any outdoor party or just make some memories on a summer night? Build a S'mores bar! It's really easy to create some old school fun… and who doesn't love S'mores?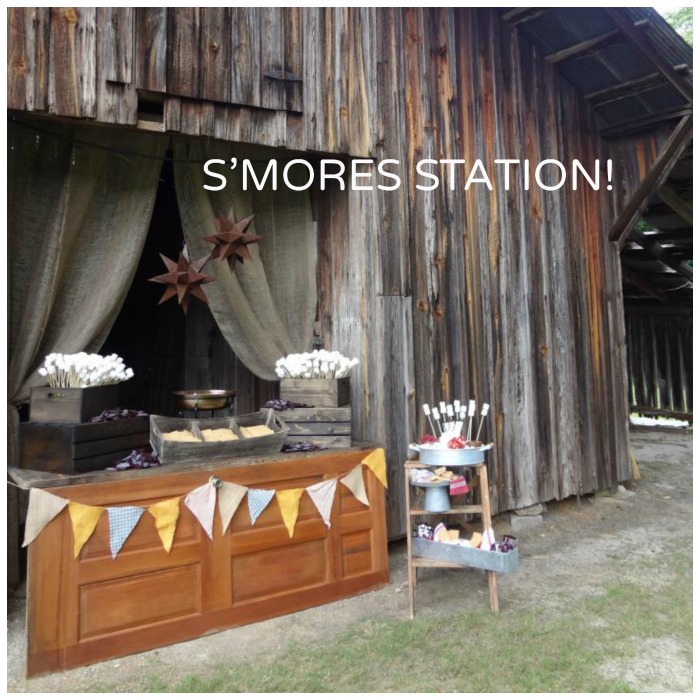 First question: what kind of party are you having? Casual? Elegant? Don't worry. You can create a S'mores bar with unique ingredients to suit the style and theme of your party. Use containers and vessels to suit the decor and mood of your event. Since this one was very rustic, we used wood, tin and burlap to decorate the table and display all of the toppings.
I like to make the marshmallows easy to reach so I create a little "sculpture" with them. For roasting, use something you can put into the fire— wooden skewers work well, but only if you soak them in water for at least 30 minutes first so they don't burn up. Since you are using skewers or pointed objects, make sure you have adult supervision when you have children on the guest list.
Select ingredients that will suit your menu. Traditional s'mores ingredients include: Hershey bars, graham crackers, and Jet-puffed marshmallows. New twists include: Nutella chocolate hazlenut spread, sliced bananas, sliced strawberries, raspberries, coconut toasted marshmallows or peanut butter. Add different types of cookies: Biscoff, Almond Thins, and ginger snaps are all good choices but any flat cookie will work.
Now, simply toast up your marshmallows to the desired degree of doneness. I don't like mine too burnt, but I know some of you do. Spread Nutella on your cookie. Layer sliced strawberries or raspberries. Add your toasted marshmallows and top with another cookie spread with Nutella. Your guests will love this variation on a campout classic!
S'MORES BAR INGREDIENT LIST
Almost any toppings you find at an ice cream or yogurt shop will work for a S'mores bar!
Hershey Bars
Nutella Spread
Dulce de Leche or Caramel
Peanut Butter
Almond Butter
Mini Chocolate Chips
Marshmallows
Toasted Coconut Marshmallows
Orange Marmalade
Sliced Strawberries
Sliced Bananas
Raspberries
Sprinkles
Shredded Coconut
Chopped Peanuts (be sure and label any nuts for guests with allergies)
Chopped, Toasted Hazelnuts
Chopped Pistachios
....And a variety of different cookies:
Graham Crackers
Cinnamon Graham Crackers
Biscoff Cookies
Ginger Cookies
Oatmeal Cookies
Thin Mints or any you think would be delicious!